You will love this Pastamoré take on classic chicken noodle soup. Our Rosemary with Roasted Garlic Olive Oil makes a perfect companion to hearty chunks of chicken, garlic and fresh thyme. If you're looking for the perfect way to beat the winter cold, give this delicious recipe a try.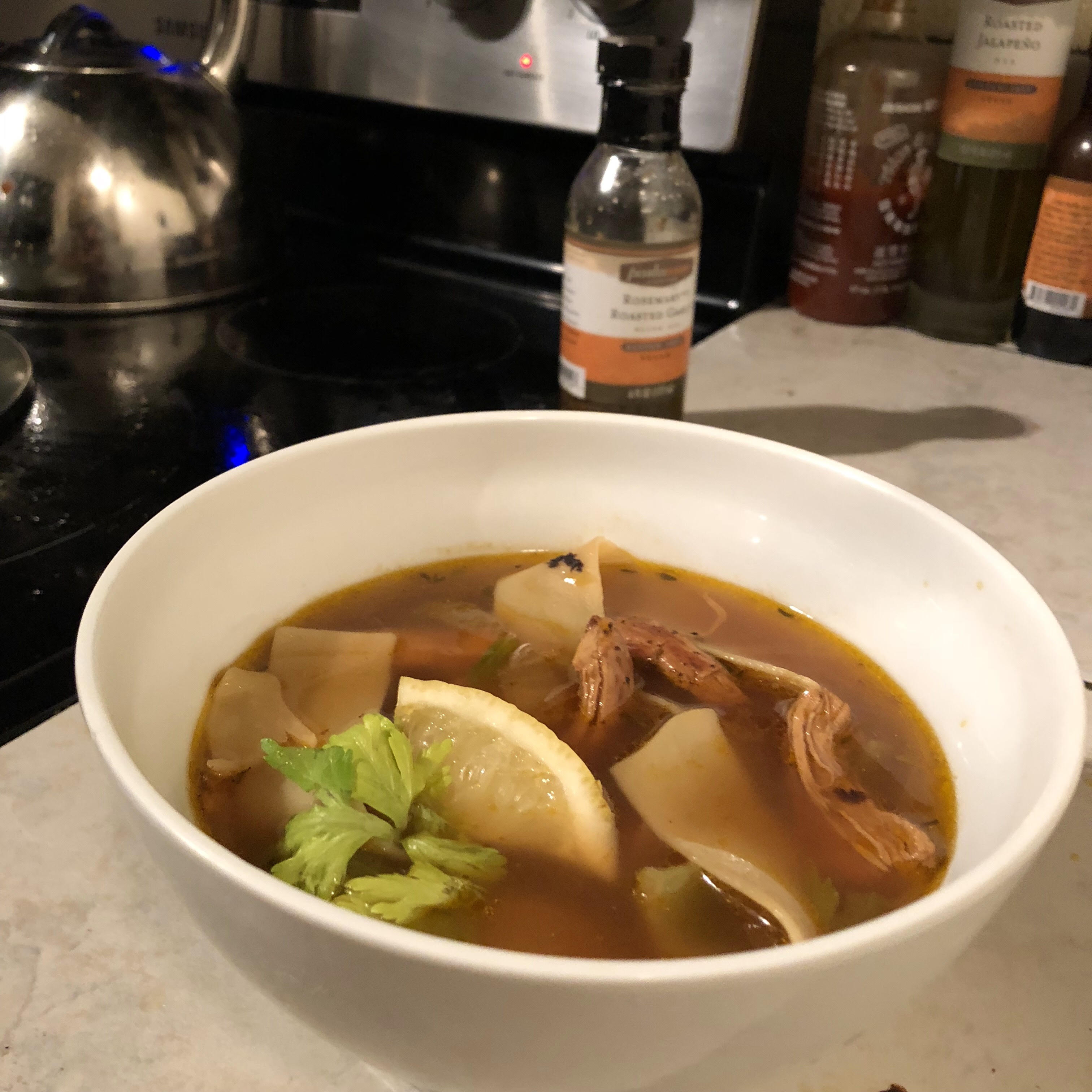 Ingredients:
1 lb chicken breast
4 tbs Pastamore Rosemary with Roasted Garlic Olive Oil (divided)
4 springs fresh thyme
4 cloves of garlic (peeled and left whole)
1 lemon
1 medium onion
About 8-10 stocks of celery
About 4-6 carrot sticks
6 cups broth
6 cups water 6 oz
(1/2 package) Pastamore Plain Pappardelle
Directions:
1. Prep chicken by pounding with bottom of glass and season with salt and pepper. In large pot (that has a sung lid) over medium-high heat, add half of the Rosemary Olive Oil to coat the bottom. Place chicken in pot with whole sprigs of thyme, peeled whole garlic, and the juice of one half of lemon. Reduce heat to medium; cook for one minute without disruption. Flip and reduce heat to low. Cover the pot, cook for ten minutes. For best results, do not uncover or peek!
2. Cut lemon into wedges and set aside for garnish. Cut up onion, carrots, and celery.
3. Check chicken for doneness, cook for up to ten minutes more. Remove chicken leaving the thyme, garlic, and bits behind. Once cooled, shred or cut up.
4. Add remaining Rosemary Olive Oil and onion to the pot and increase heat to medium-high stirring occasionally. Celery and carrots go into the pot once onions are golden brown, season with salt and pepper and cook until tender, about five minutes.
5. Add chicken, broth, and hot water. Bring to a boil stirring occasionally. Break Pappardelle into bite-sized pieces. Add Pappardelle to the pot. Cook until pasta is tender, about four to six minutes while removing and discarding the sprigs of thyme as you see them.
6. Serve out of the pot, watching for any remaining stems, with a lemon wedge and celery leaves.